"Just a quick thank you to for helping us with our recent project to turn our 4 bay room on our in-patient unit into two on-suite room's.
 This was sadly needed because our normally 4 bed space room was only being use by one person due to Covid. Meaning we had lost 3 vitally required bed spaces.
 It was decided to turn the 4 bay into a two bed rooms with on suites to gain back a much missed bed space.
 With you guys and the building trades being so busy. We put this undertaking on our small part time maintenance team to do this as an in-house managed task. This included designing, planning and being the main contractors.
This was in the hope of things being started and hopefully finished quicker as well as keeping cost down, being what we are.
 This meant we never could not have attempted, let alone finished it without all your help, products, assistance and in some cases your patients with us.
 It sadly took longer than we wanted to take, that wasn't all solely down to the difficulty to get raw materials of late. So some lessons learnt for us. 
 But I am pleased to say we are now there thanks to all your help and support.
 The great news is we have patients using the rooms now, and they and the staff seem very happy with them.
 Again many thanks for all you help, from us at the hospice. You have helped to make the lives of our patients and their families easier, when it's needed the most.
 Simply special!"
I want to say a huge thank you to you and your teams.
The guys were brilliant. Small minor additions they addressed as I asked them to, they were very very good.
A Really respectful team and worked well with our other contractors.
I look forward to working with you in the future.
Surrey Ceilings specialising in suspended ceiling installation assisted us and the school in preparing a EFA Condition Improvement Funding Bid so the school could improve the learning environment in the classrooms. The costs were very competitive which ensured the scheme had good value for money so was looked favourably by the EFA.
The on-site liaison and approachability of Colin Wells was good and ensured the works went well. The speed of the ceiling fitters was good and really pushed the works forward quickly ensuring the works were finished on time.  
We will consider Surrey Ceilings for future work, recommend to our school clients and main contractors were we are considering suspended ceilings, etc
I would like to thank your company for their excellent work to our refurbishment project in Weybridge.
The work entailed fire and acoustic sound proofing on the ground floor ceiling while the offices above continued to be in occupation. The work was carried out in a very professional way including the plastering.  The building was left in a clean and tidy condition after the work was completed. I have asked Colin to come and quote for the next phase as soon as possible.
I contacted Colin when I needed new ceilings for an office I was converting into a flat. Colin came out measured up and gave us a very fair price. His guys came out did a great job in a time scale that was good for us. They left the place clean and tidy and did a really nice job. I will be using them again in the future.
It was quite a difficult project changing the reception and school office area.  The school did not want to put in an entire new ceiling because of the expense, but Surrey Ceilings were excellent in adapting the existing ceiling, only renewing where necessary.  The work was completed on time and in a professional manner and have no hesitation in recommending the company to others.
We asked Surrey Ceilings to price some work for a refurbishment job we were undertaking at an office block in Guildford. They surveyed the job and gave us a price quickly, this was important to us as the office had already been let to new tenants so the turnaround time for the whole contract was very tight. Colin arranged for the work to be done and his guys turned up exactly when planned. They worked quickly, were clean and provided us with a high quality job that was completed a day faster than had been allowed for. It is a pleasure to work with like minded contractors who just want to do a quality job at a fair price.
We have since asked Surrey Ceilings to quote on other projects, and will be working with them again in the near future.
We have dealt with Surrey Ceilings and will in the future because you're decent people to deal with, have good prices, and offer a very professional service. We'd have no hesitation in recommending you to others.
We have since asked Surrey Ceilings to quote on other projects, and will be working with them again in the near future.
We were very pleased with the work carried out and would recommend you to others, we would also use you again.
Terry was very efficient, leaving the area clean and tidy. We have used your company before and we are satisfied with the service, price, promptness, surveying, quality of the materials used and the additional help supplied. As always, will use Surrey Ceilings in the future.
The office looks fabulous and we are really pleased with it. Thank you for this, I am moving into this space in a couple of weeks and I cannot wait! Thanks so much, will be definitely recommending you.
My thanks to you for sticking with it and a special thanks to your Team, if you can pass it on for their patience and professionalism.
Having the ceiling lowered in our busy foyer area which is a main link to our main hall within the school day, was a bit of a challenge but
we found the installers where very flexible and understanding, especially when they were asked to stop work to allow the children to come through the area, and then to continue again after an assembly or sports lesson.
I would recommend Surry Ceilings to anyone looking for a good competitively priced ceiling installation.
I would use them again without hesitation.
It was also very nice to get good comments from the teachers, parents, children and the governors saying how nice the area now looks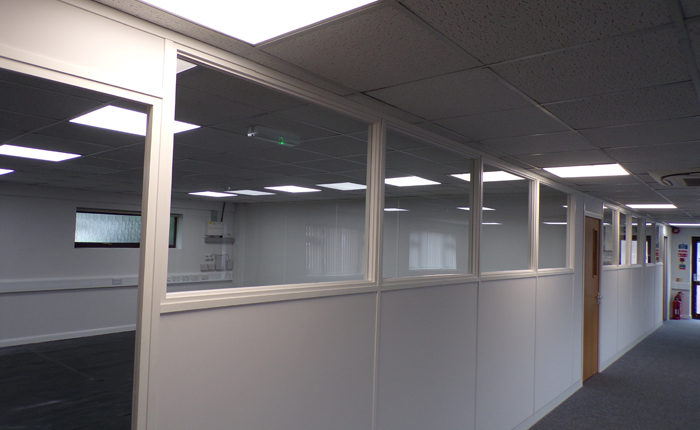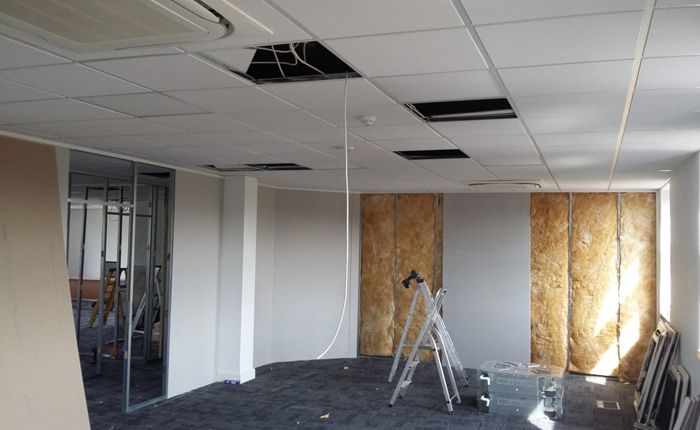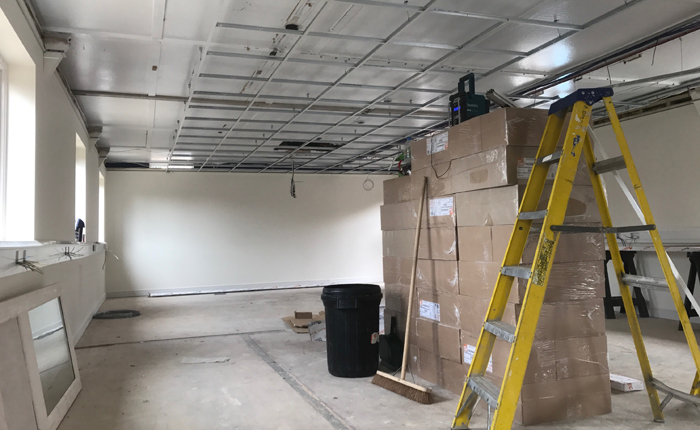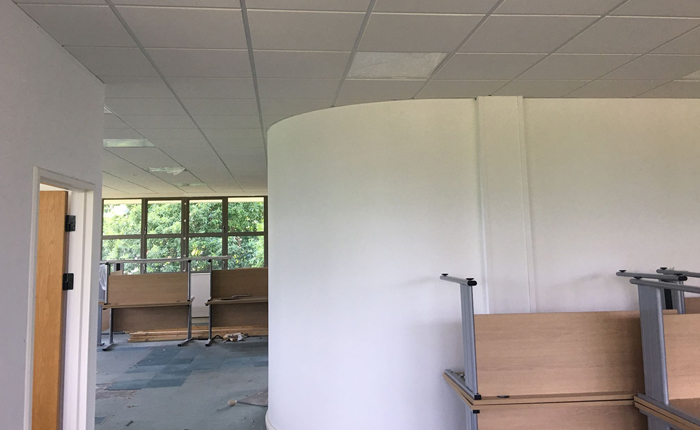 Suspended Ceilings - Projects
ABOUT US
Surrey Ceilings Ltd is a leading ceiling contractor, who specialize in the design and installation of suspended and plasterboard ceilings along with all type of ceiling finishes. Established back in 1969 as a family run business, Surrey Ceilings continues to grow by servicing and maintaining all our new and existing customers to the highest possible standards.
If you have a ceiling enquiry, please feel free to call us on 01932 874568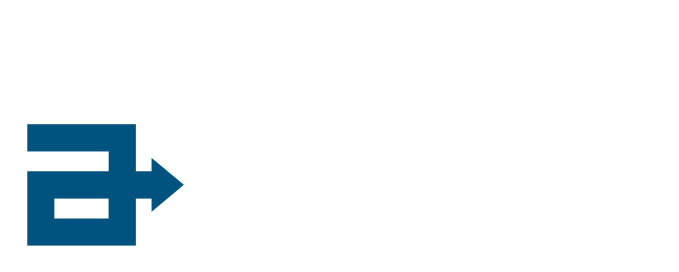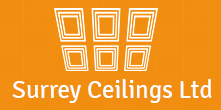 All major credit cards taken